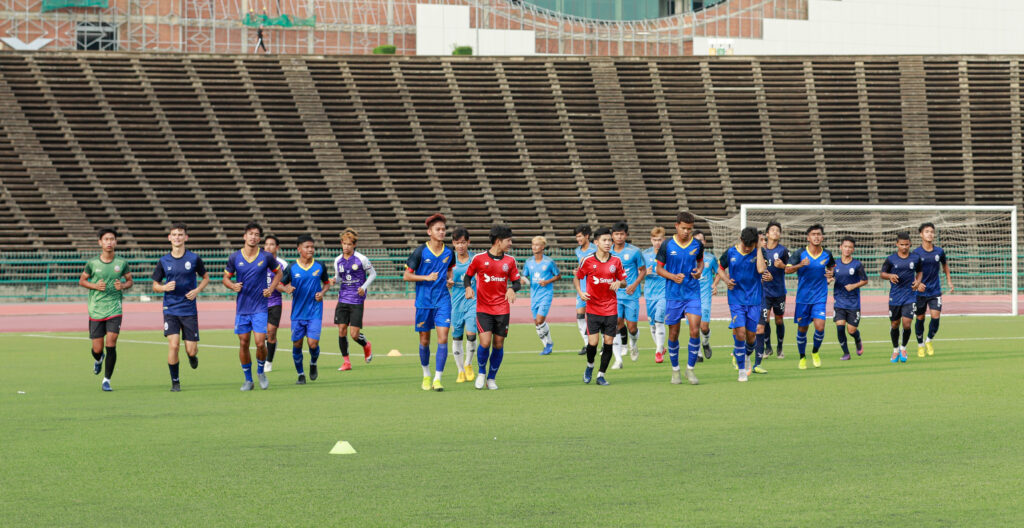 The Cambodian U-19 team defeated the Thai and Vietnamese U-19 teams at the ASEAN Football Federation (AFF) championship led by the head coach, Mr. GYOTOKU Koji, who has been dispatched by the Japan Foundation Asia Center in collaboration with the Japan Football Association (JFA) to Football Federation of Cambodia (FFC). Mr. GYOTOKU also led the team to the victories against Thailand​, the Northern Mariana Islands and Brunei in 2019 in the preliminary of Asian Football Confederation (AFC). These victories brought Cambodia to the AFC Finals, for the first time since 1974, held in Uzbekistan. (*The finals were supposed to be held in 2021, but later, it was cancelled due to the spread of COVID-19). Expectation for good performance of U-19 team is growing in Cambodia as the popularity of football is rising.
We will check out further about Mr. GYOTOKU!
Can you tell us about your career in football?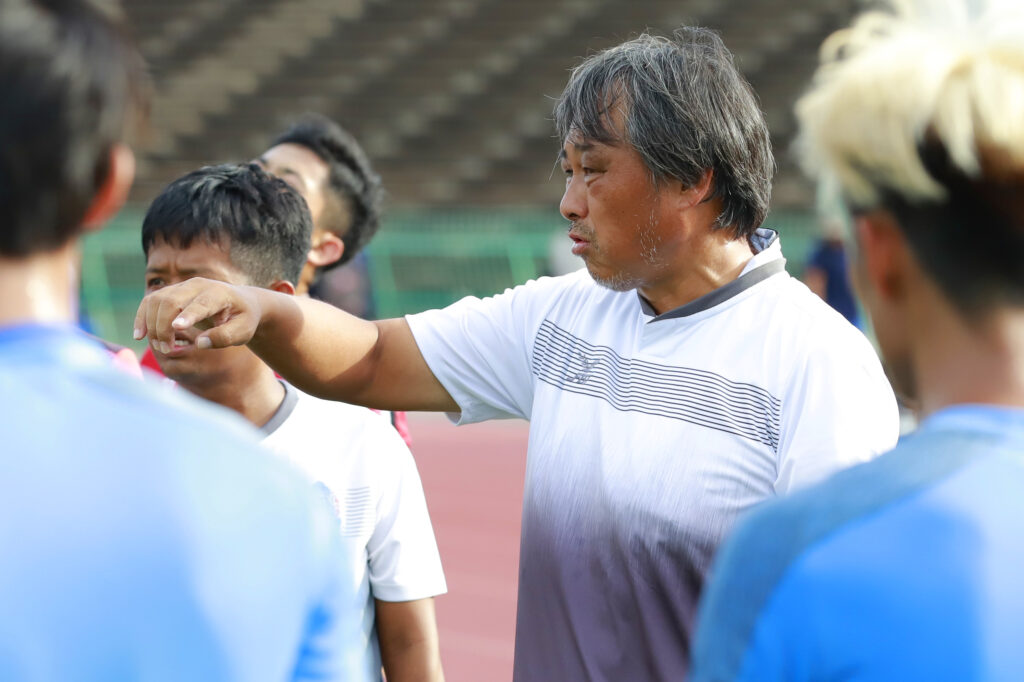 I was selected for the Japan national team in January 1987. But in March of the same year, I was transferred to a football team in Germany and I played there for two and a half years. Having jumped into a new world and played in that team, I found the differences between me and other foreign footballers. In June 1989, I returned to Japan and joined the Toyota football team, but in the 3rd game, I had a rupture of ligament, which took for me a year to come back. After 6 months, I had a rupture of ligament on another knee, which caused the end of my career as a footballer. It was the time when J. League started in Japan.
When I was 29 years old, I started my career as a football coach. I coached the SHIMIZU S-PULSE for 14 years, which is the longest term in my career. I got gradually interested in the career abroad as a football coach. Then I was appointed as a coach of the Bhutan national team and moved to the country in 2008. Bhutan was the lowest ranking country among all 210 FIFA members. But in the first year of my career, I could lead Bhutan to the final tournament of South Asian cup. This was the first event for Bhutan national team to win overseas games. Later, I returned to Japan to serve as an assistant coach at OMIYA ARDIJA of J1 League from 2010 to 2011. Then from 2012 to 2013, I served as head coach at FC GIFU of J2 League. In 2014, I was assigned as a coach at football team of Shizuoka University for one year.
In the following year, I was invited as a coach by a Thai football club, Angthong FC, whose goal was to be promoted to the Division 1 from Division 2. I led the team to five successive victories from the opening game. And the maintained the 2nd place in the division. After returning from Thailand, I served as a "househusband" for half a year. Then, I was appointed as a coach of Nepal national team for two and a half years from March 2016. In the first year, there was an "AFC Solidarity Cup". The cup provides opportunity for the teams that are eliminated in preliminary round of Asian Cup and World Cup to play in the international matches. To our surprise, the Nepal national team won the championship! In August 2018, Nepal team had to play against Japan at the AFC U-23 Championship. The Nepal team was losing ground to Japan throughout the match then lost by one to zero. However, we fought our way to a good game. In September 2018, I came back to Japan and started serving as a "househusband" again (laughs).
Then I come to Cambodia. JFA has been dispatching many football coaches to Asian countries. As a part of the program, I have been assigned to the head coach of Cambodian U-19 team and the coach of Bati youth football academy of FFC. I am happy that FFC people respect me. They really appreciated me when the U-19 team got through the preliminaries. I think the goal set by JFA in terms of people's exchange is being achieved.
What do you think about the future of Cambodian football?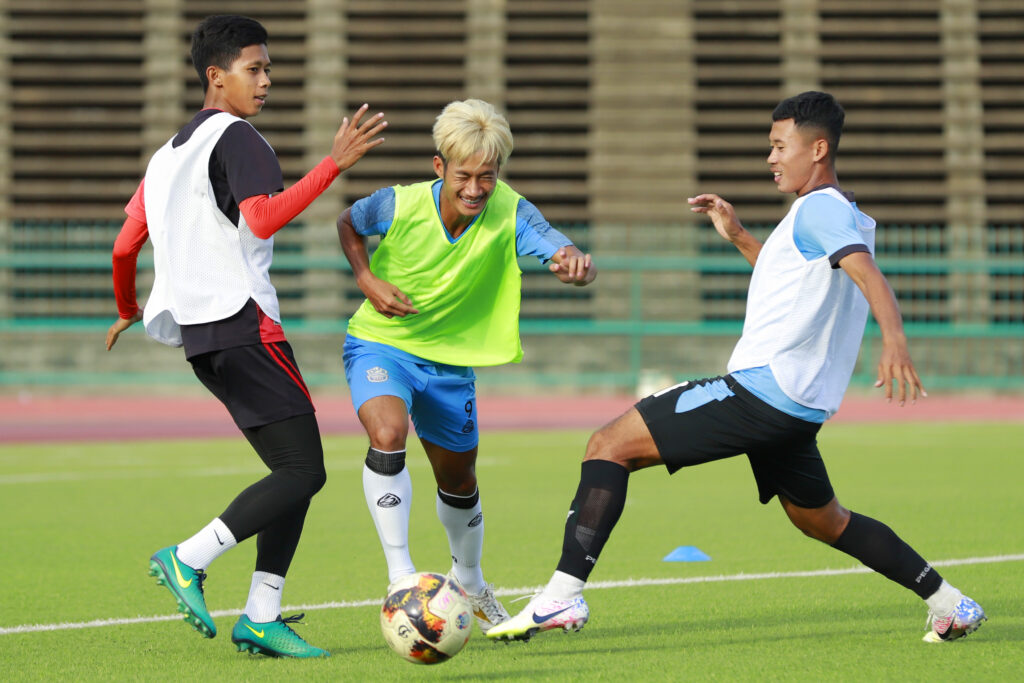 There is a prominent footballer in the U-19 team. Every Cambodian football fan might know Sieng Chanthea. After he left Bati academy, he has joined Boeung Ket FC. I want to train footballers like him.
While Cambodian national team footballers tend to be more defensive, his work as shooting weapons is very useful. When we won against Thailand in the AFC U-19 qualifiers in 2019, it was Chanthea who led the team to victory. Chanthea is a Cambodia's rising star. If he succeeds, there will be younger footballers who will follow him. His success is not only for him but also for the whole Cambodian football.
U-19 team has gained public reputation in Cambodia since the great achievement of U-19 in 2019. But the team has a lot to be improved. We need to prepare for the SEA Games in 2023 by strengthening this generation. Moreover, we have to train footballers for the future after 2023. We didn't train children from basics in Cambodia. In Japan, children learn the basics since they are at early elementary school years from well-trained coaches, which is still not enough to catch up with the world level.
Does it mean that it is difficult to for Cambodian to compete with other countries for now since the footballers have not been trained since young age and have not been trained from basics?
Yes.​ The lack of basics is definitive problem. I found the same problems when I was in Thailand, Children are quick to give up and it's much the same for professional athletes​. If we can improve this, we can see next steps. It is a responsibility of trainers to find how to improve.
The U-19 national team was qualified for championship in the AFC cup for the first time since 1974. How did you lead them to this success?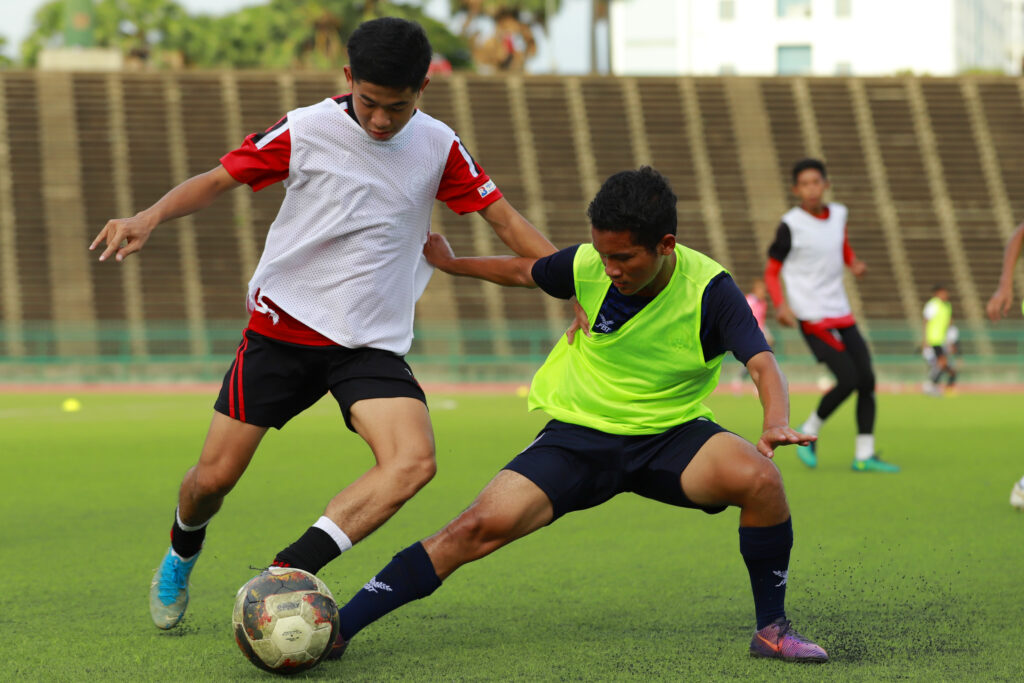 They are improving defense skill. Before, they gave up if the opponent team take the ball. But now they defend tenaciously. And I see they gain confidence mainly because they won against Thailand, after having lost to Australia in the first match of the AFF U-19 championship.
As a motivator, I try to instill positive thinking in the minds of the national team members. On the other hand, at the Bati youth football academy, I am very strict to them. Therefore, some national team footballers from the Bati academy might see I am very different in my training methods. When U-19 teams lost to Australia by 5 to 1 in the qualifying round of the AFF U-19 championship, I did not say "It was a bad game" to them. Instead, I told them, "You were good". This might have pushed them move forward to the victory over Thailand. I think they are gaining confidence as they accumulate this kind of success experiences.
In preparation of the upcoming AFC U-19 championship, which skill will you strengthen more?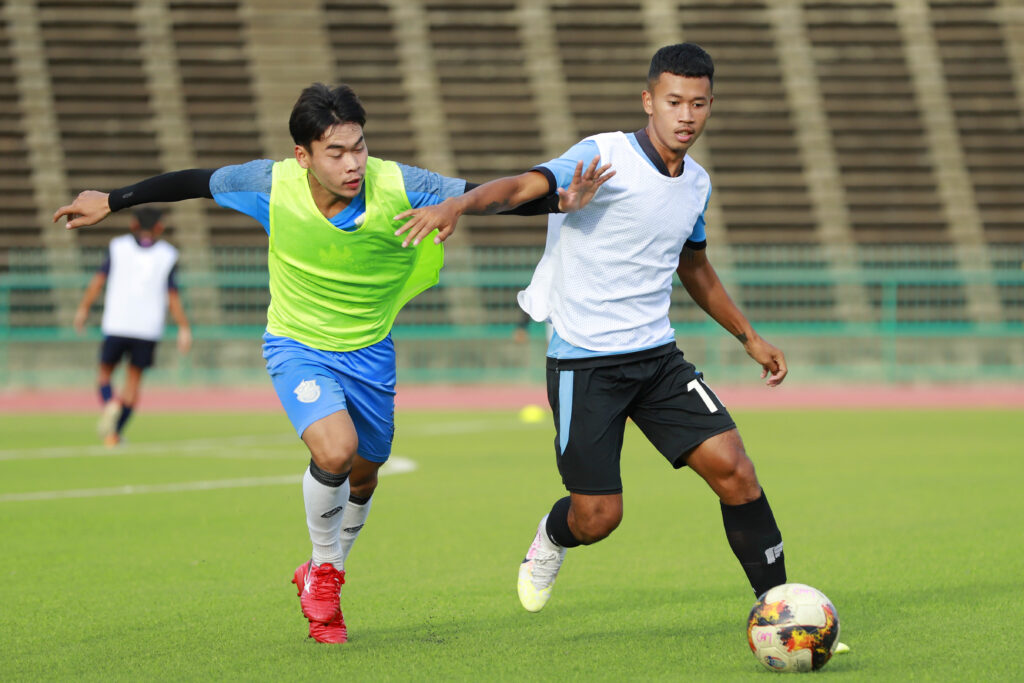 We have to train them in skill, tactical and physical side all at once. Footballers can improve the skills as much as we practice, but there is the right time for growth and for acquisition of skill. Since the current generation missed the right time, their speed of growth is slow. I am trying to train them, so that they can close the gap, but they don't have enough stamina. However, they are getting much better than the time when I arrived. I am sure that they can grow as we train them. I hope that more and more promising players go and succeed in Japan and return to Cambodia.
Please tell us about the perspective and possibility of football exchange between Cambodia and Japan.
I think the FFC has been learning a lot about Japan. I don't say that it is good to follow Japan, but there are many things that we can learn from Japan, because it has been growing rapidly in a short period of time after J. League was established. I hope both countries grow together.
Last year, JICA put out a call for volunteers who would be dispatched to rural area, which didn't happen due to the COVID 19. If we can realise after things return normal, we can support the children in the villages to expand their future possibility.
Please send a message to football fans in Cambodia.
If you don't know Cambodian football yet, I would like to recommend you to bring attention to it. I am wondering if we can send promising players like Chanthea to Japan. I would like to ask for your support, if there are possibilities of exchange program, short-term overseas study program, or sports exchange program in order to send them to Japan. For the high school year footballers, if they put themselves in the good environment, they can adapt to it. If they stay only in Cambodia, they will be stuck behind Japanese footballers. If we can send even 1 or 2 players to Japan, the players can have a good impact on entire Cambodian football, which raise the level. I think there are some high schools that accept the footballers from Cambodia if we have financial support.
In Japan, there are the corporate sponsors and individual sponsors who support not only top-level team but also the football academies. It would be highly appreciated if such sponsors support Cambodian footballers.
---